Protecting yourself from the sun's harmful effects means more than slathering sunscreen on any exposed skin. Other parts of your body need protection too. Whether you are playing at the park, lounging on the beach, or simply hanging out in the back yard, make sure you're covered from head to toe.
It's common to slather on one application of sunscreen and then assume you are done for the day. However, you should be applying sunscreen 30 minutes before you head out and then every two hours thereafter, even more often if you're sweating or swimming.
Protecting yourself from the sun doesn't mean simply wearing the right clothes or sunscreen, it also means avoiding the sun when it's at its strongest. It's a great idea to use the UV index rating report to gage how strong the sun may be during the day.
At The Children's Place daycare, we protect your little ones by applying sunscreen 30 minutes before going outdoors to their arms legs, faces, ears and the front and back of their neck. We also wash our hands between sun screening each child. If needed, we re-apply sunscreen outdoors. Kindergarten and School-Age children can put sunscreen on by themselves with supervision.
Daycare Reminders:
A hat is always required at daycare for your children. We are outside weather permitting everyday.
Please have a cover for your child's shoulders while outdoors😊
Please watch this educational video on sun safety!
Sun Safe Play Everyday! – YouTube
Here are some fun games and puzzles for you and your children to play
Undercover Cody | Children's Sunsmart Safety
Paper Plate Sun Visors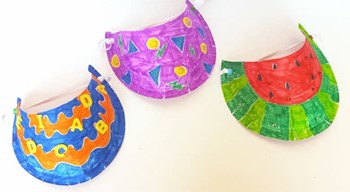 Materials
paper plate
markers, pencil crayons, crayons, or paint
stickers, glitter, sequins, washi tape—whatever you want to use to decorate your visor
hole punch
elastic (available at dollar stores and fabric stores)
pony beads
ribbons (optional)
Directions
Cut a paper plate into a half moon shape.
Use markers, crayons, glitter glue, stickers, and washi tape to decorate the bottom of the plate. Make it fun and colourful!
Use a hole punch to punch a hole at each point of the half moon shape.
Thread a piece of elastic through the holes. The ends of the elastic should stick out on top side of the visor.
Slide a bead on to each end of the elastic. Adjust the beads to change the size of the visor until it's the right size for your head.
Tie a knot in each end of the elastic.
Make your visor extra bright and colourful by tying ribbons to the elastic.
Voila! You're done! Put the paper plate sun visor on your head and enjoy the summer sunshine!